The Same World, the Same Blue Sky
Publisher:Vicot
Release time:2017-04-06 12:05
On February 22, Dezhou received the first spring snow of 2017. 46 middle and senior cadres of Qingdao TGOOD company came to Shandong Vicot Solar Technology Co., Ltd. for visiting and studying.
The training was held in the third floor of the company's headquarters. The training time is 22nd and 23
rd
Feb.. First of all, on behalf of Vicot, Chief Operating Officer Mrs. Gong Meilan addressed the welcome speech. She expressed a sincere welcome to the strategic partners, and look forward to the Qingdao TGOOD company jointly practicing the mission of "the same breath, save energy together" to achieve our dream of " The same world, the same blue sky". The special lecturers of this training are the president of Vicot, Mr. Li Wen and the dean of Design Dean, Mr. Shi Wenbin. To feel the product more intuitively, Shi Wenbin dean led Qingdao TGOOD company staff and visited the gas-fired absorption heat pump division workshop, solar energy division workshop and solar base. On the site, revolved around the product principle of gas absorption heat pump, the technical characteristics of high energy efficiency and low emission, the product principle of solar boiler, the technology and advantage in the field of solar energy medium and high-temperature thermal applications, Shi Wenbin dean has a detailed explanation and exchange with TGOOD's people. President Li Wen particularly gave lessons to the people of Qingdao TGOOD. Li Wen analyzed the current situation of "coal to gas" cost pressures in heating industry, the advantages of Vicot gas fired absorption heat pump in the distributed heating, the superior performance and environment protection advantages of gas fired absorption heat pump in low temperature heating, and product profit mode and marketing methods, he did a detailed explanation. Shi Wenbin dean introduced the sunlight-tracking type parabolic solar collector 65% of the light heat efficient conversion efficiency, the industrial heat application areas of solar boiler and environmental protection and energy-saving advantages in high solar irradiance region, the marketing operation mode of Vicot a series of solar products. This lecturer is taught in simple terms, and is very suitable for Qingdao TGOOD company for the first time to participate in the training of Vicot new energy products. After the daily training, trainees spontaneously organized groups for discussion to the late night. In the end of the training, Qingdao TGOOD students said this training has an important guiding role in the future of new energy products market sales work.
Like a spark, Vicot new energy products "gas fired absorption heat pump", "solar boiler", burning " is burning "environmental protection, energy saving" revolutionary trend.
It is a timely snow. A timely snow promises a good harvest. In 2017, let us struggle for the protection of our clear water and blue sky together.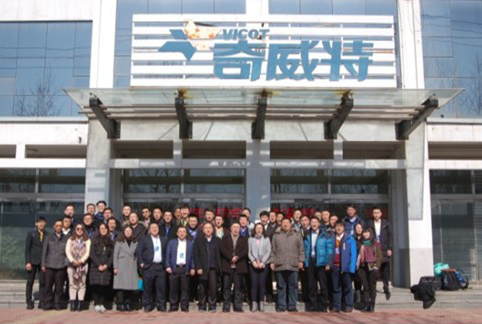 Group photo of Qingdao TGOOD people with Vicot's leaders before Vicot's office building.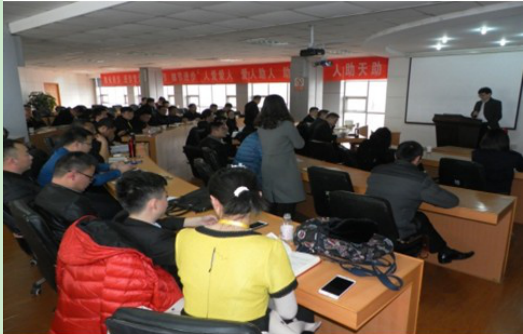 President Li Wen is giving lesson for Qingdao TGOOD people