Vicot gas fired absorption chiller V30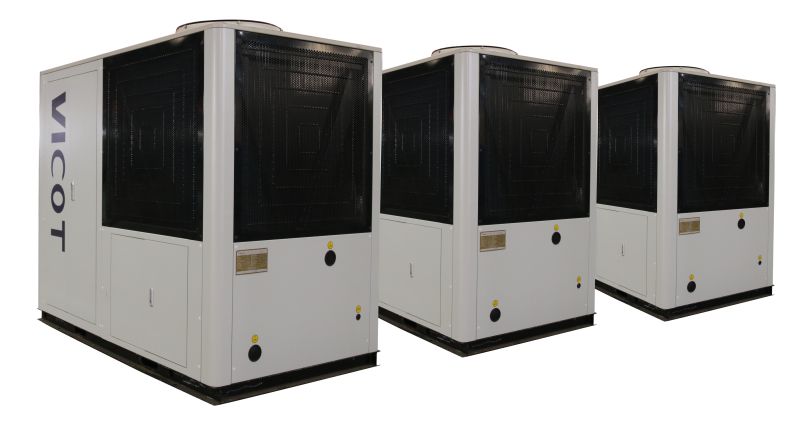 Unit introduction
This unit is a VICOT new energy chiller unit. It uses natural gas primary energy as the main driving energy source, ammonia as the refrigerant, and water as the absorbent.
The thermal cycle is performed in a sealed pipeline, which is welded and completely tight. It is factory tested and does not require any maintenance or coolant replenishment.
Features
Using natural gas as the main energy source, clean and pollution-free
The use of natural working fluid R717 does not damage the ozone layer, which is beneficial to protecting human living environment.
The unit can run stably under the environment of 21℃~52℃.
The unit adopts electronic expansion valve adjustment to adapt to a wide range of environmental temperature changes and meet different requirements of ambient temperature and water temperature.
There is no compressor in the unit, fewer moving parts and longer lifetime..
The blower of the unit adopts PWM speed regulation, and automatically adjusts the gas flow according to the heat demand, so as to realize the on-demand gas supply and high efficiency and energy saving.
The unit has various protection functions such as high pressure, high temperature, water shortage, electrical safety, gas safety, etc., to ensure the reliable and stable operation of the unit.
Parameter
VGAC030-HT
Item
Unit
Standard cooling conditions
Nominal cooling capacity
See note 1
kW
30
Water outlet temperature
Minimum value
°C
3
Water flow
Std value
m³/h
4
Nominal water pressure drop
At nominal water flow
kPa
≤40
Ambient temperature
Maximum value
°C
52
Minimum value
°C
21
Rated thermal input power
Std value
KW
37.2
Rated natural gas flow
Std value
m³/h
4.0
Electrical Specifications

Power supply
Voltage
V
380
Types
Three phase
frequency
Hz
50
Electrical input power
Std value
kW
1.4
Installation data
Noise
dB(A)
54
Gas accessories
Type
Inner wire
Thread
In
Rc 1/2″
Water accessories
Type
Inner wire
Thread
In
Rc 1 1/4″(DN32)
Dimension
Length
mm
2180
Width
mm
1380
Height
mm
2100
Weight
Net weight
kg
1200
Note:
1. Nominal cooling capacity: ambient dry bulb temperature 35 ℃, water outlet temperature 7 ℃; there will be certain change of cooling capacity in different ambient temperature;
2. Natural gas lower heating value 33.5 MJ;
3. Test conditions: natural gas static pressure 2.5kPa;
4. The noise value is the average value in 5 meters away from the unit;
5. The specification is subject to the value in rating label, and no prior notice before any change


Certificate